Buglioni Valpolicella Classico Il Valpolicella 2011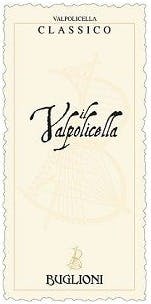 Alfredo Buglioni started making wine in 1993 after he purchased 34 acres of land in the Valpolicella Classico area in Cariano - 22 acres at Ca' Vegri, 6 acres around the Carrubio winery and 6 acres in Bardolino. Alfredo revitalized the vineyard where only traditional grape varieties are grown, such as Corvina, Corvinone, Rondinella and Molinara, and has deliberately kept the yields low to produce wines of great intensity. Initially he and his son Mariano used contract winemakers, but finding that their wine tasted similar to all others, they hired their own full-time winemaker, Diego Bertoni.
Wine EnthusiastThis shows bright tones of wild berry and cherry cola, with slight hints of barbecue smoke and licorice in the background. There's even a touch of medicinal herb on the short finish.