Crown Royal Special Reserve Whisky 1.75L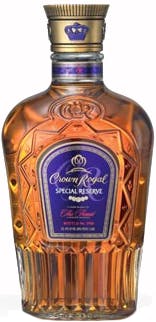 Crown Royal Reserve is a spectacular blend. The Master Blender selects less than 1% of the 1.6 million barrels in inventory and personally appraises the progress of these select whiskies as they age, through to the final blend. More rye whisky and our exclusive batch base whisky process give this masterpiece more spicy, nutty top notes and even more creamy smoothness.
Wine EnthusiastAroma includes honey, sherry, dried fruit, spearmint and nougat, black tea, cocoa butter and tropical fruit. Palate offers bittersweet chocolate, brown sugar, honey-coated peanuts, melon, Sherry and nougat. A modern-day classic.