Vicario Monk's Secret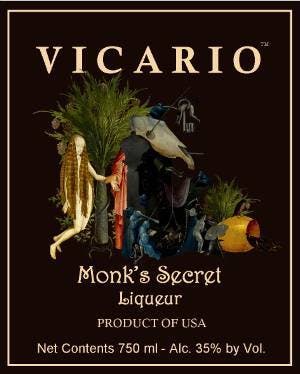 Unavailable
We're sorry, but this product is not currently available.
Monastery brew houses and elixir distillers from different religious orders have been in existence all over Europe since the early Middle-Ages. Beyond being a place of worship, their gardens provided guests, and the inhabitants, food and medicinal plants. The Cistercians, Benedictines, and Trappists were part of a network of religious houses which exchanged ideas and procedures but also kept a few secrets. After careful reading of ancient monastic texts, we crafted this maceration of over 15 aromatic herbs and spices and named it after these famous monastic orders. It is an exquisitely round and exotic liqueur, a relaxing yet powerful and excellent digestive.
Wine EnthusiastThis liqueur, which appears to be loosely inspired by Chartreuse, has a dull green olive-oil hue and a concentrated aroma that's like inhaling a slightly bruised bouquet of fresh herbs, including mint and lemon verbena. Thick and viscous in the glass, look for an intense anise sweetness up front and a stingingly spicy finish, like jalapeño and menthol.