The Great Oregon Wine Company Rosé Can NV 187ml Can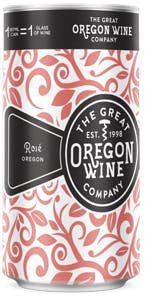 Clean, high-toned fresh cherry and raspberry fruits drive the aromatic profile of this rosé. Candied apple skin and bruised peaches add to the layered bouquet on the nose and the mulled spice element on the palate adds depth and character to the wild fruit tones. The palate shows a touch of residual sugar on the front of the palate, but the overall balance and acidity results in a wine that finishes relatively clean and dry.
Wine EnthusiastThis nonvintage rosé comes packaged in 187ml cans, with four to a pack. Lightly sugary flavors of simple strawberry fruit recall inexpensive California brands-except with a slightly tinny finish.