The Great Oregon Wine Company Pinot Noir Can NV 187ml Can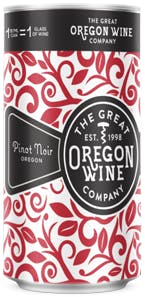 There is a delicate combination of tart red cherry and boysenberry fruit flavors on the nose that come across as reserved and balanced. A combination of woodsy earth tones, mushroom, and oak spice add depth and complexity. The wine offers a lovely balance on the palate with a forward fruit style and a seamless transition to the finish representing flavors of vanilla, cedar, and cinnamon.
Wine EnthusiastThis nonvintage wine comes packaged in 187ml cans (four to a pack)-each good for one generous glass pour. Pleasant cherry flavors carry it through, and it's a fine porch pounder, or safe on a hike or campout (just pack the cans back out). Maybe the packaging puts the thought of metal in a taster's head, but there seems to be a slightly tinny aftertaste.