BenRiach Curiositas Single Peated Malt Scotch Whisky 10 year old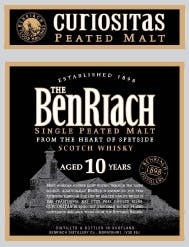 Curiositas uses a heavily peated malted barley as the cereal varietal to produce a unique, fresh, peated expression. This rare peated single malt, from the Heartland of Speyside, has wonderful overtones of peat reek, combined cleverly with a background of fruity, floral, heathery notes and an appealing presence of oak wood in the finish. An explosion of aromatic peat reek, with fragrant hints of honey, fruit and mellow oak. Rich amber. An avalanche of peat, followed by an extravagant and complex mix of fruit, heather, nuts, oak wood and spices.
Wine EnthusiastThe opening aroma is pleasingly smoky and soot-like, then the bouquet opens up to include aromas of creosote, olive brine and cigarette ash. The palate entry is warming, nougaty sweet and sap-like; at midpalate the chunky flavor profile offers a well-integrated marriage of barley malt and sweet smokiness/peatiness. Finishes on a sweet, grainy note. Best Buy.