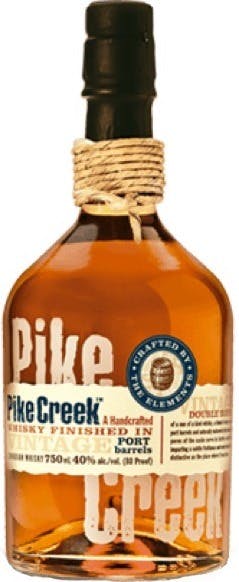 SKU: 31776
Pike Creek Canadian Whiskey
---
Unavailable
We're sorry, but this product is not currently available.
---
Pike Creek is a double-barreled whisky aged in American oak barrels, then finished for a short period in Vintage Port barrels. The flavor of the port moves into the whisky, rounding it out, giving it a sweet, dried fruit flavor and providing an exceptionally smooth finish. In the Pike Creek warehouse, the barrels reside in a non-climate controlled environment - thus exposing both the wood and whisky to the nature's elements in the surrounding area. Maturing in the Great Lakes, a region with more extreme temperature swings perhaps than any other, Pike Creek's hot and humid summers, and shivering winters help impart unique flavors to the whisky. The American bourbon barrels add caramel vanilla toffee notes, and the Port barrels add dried fruit flavors and round out the whisky.
This small-batch whisky is finished in Port barrels, which isn't seen often in Canadian whisky. More Port-like fruit would have been welcome; instead, the mild scent shows oak and allspice, while the palate has light brushes of caramel, brown sugar, maple and resin, finishing drying and oaky.